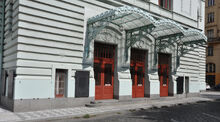 Ochranný přístřešek především nad vstupními dveřmi objektů. U nákladnějších staveb často ozdobně provedený, často z kovu a s prosklením.
Výsuvné stříšky či lehké přístřešky nad terasami, nad výkladci obchodních prostor apod. Na posuvném rámu vykonzolovaném před průčelí je zpravidla vypnuta textilie či folie, chránící před deštěm či sluncem.
Ad blocker interference detected!
Wikia is a free-to-use site that makes money from advertising. We have a modified experience for viewers using ad blockers

Wikia is not accessible if you've made further modifications. Remove the custom ad blocker rule(s) and the page will load as expected.