Památky > Terminologický slovník > Stavba > Prvky staveb > Táflování
Dřevěné obložení stěn tvořené prkennými nebo jinými dřevěnými deskami - tabulemi (překližkami apod.). Též "deštění".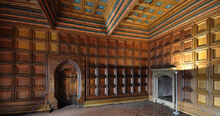 Plnilo funkci dekorační, ale také tepelně izolační. Desky byly upevněny ke zděné stěně zpravidla pomocí lišt, zapuštěných již při zdění do líce zdiva. Často byly v místnostech instalovány dodatečně.
V pozdějších obdobích (baroko, klasicimus) bylo deštění různě kombinováno s vnitřními okenicemi v okenních výklencích, omítanými či tapetovanými stěnami apod.
Ad blocker interference detected!
Wikia is a free-to-use site that makes money from advertising. We have a modified experience for viewers using ad blockers

Wikia is not accessible if you've made further modifications. Remove the custom ad blocker rule(s) and the page will load as expected.