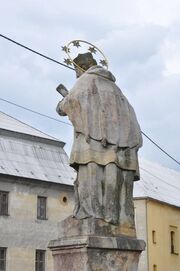 Takto by se mělo postupovat pokud možno vždy: Vytvořit na místě sérii fotografií, a přitom nevynechat zadní stranu... Samozřejmě je důležité co to jen jde snímky správně popsat a např. vzájemnými odkazy provázat, aby se maximálně podpořila možnost využití fotek pro vytváření 3D modelu apod.
Autor: Jan Sommer Sommmerjan (talk) 13:15, April 25, 2014 (UTC)
Foto foto NPÚ - MIS, id 329181, autor Marcela Gavendová. Zdroj.
Ad blocker interference detected!
Wikia is a free-to-use site that makes money from advertising. We have a modified experience for viewers using ad blockers

Wikia is not accessible if you've made further modifications. Remove the custom ad blocker rule(s) and the page will load as expected.